Welcome to Jewel Pet wiki!
We currently have 556 pages. This is a site dedicated to the Jewel Pet franchise. Contributors are welcome!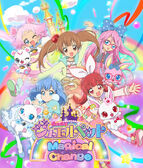 Jewelpet Magical Change
is a 2015 anime series based on the
Jewelpet
franchise. It is the 7th and final series in the Jewelpet anime franchise.
For the first time in the franchise, Jewelpets are given the ability to transform between a Jewelpet and a human. The series also features the debut of a new Jewelpet character named Larimar.



What's your favorite theme among the Jewelpet anime series?
Which Sweetspet is your favorite? (alphabetically sorted)


Create blog post
Refresh
https://myfigurecollection.net/item/143319

this was not made by the same company who did akari and miria. but oh my goodness, im so glad it even exists!

ive also looked at the maker, and it seems they modified sega's mold to add labra to akari, and sango to miria. thats quite strange.. ive never seen…

Read more >

I case you haven't noticed, My blog posts are strange.


Very strange.


Anyway, I may or may not be starting my own wiki soon (just to let you know) and I will tell you if I do. Thanks.

Read more >

I've never made any plush before, so it's my very first one, entirely handmade. I hope I'll do better new time! What do you guys think?

Read more >
See more >