Welcome to Jewel Pet wiki!
We currently have 726 pages. This is a site dedicated to the Jewel Pet franchise. Contributors are welcome!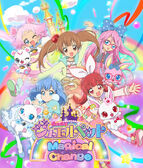 Jewelpet Magical Change
is a 2015 anime series based on the
Jewelpet
franchise. It is the 7th and final series in the Jewelpet anime franchise.
For the first time in the franchise, Jewelpets are given the ability to transform between a Jewelpet and a human. The series also features the debut of a new Jewelpet character named Larimar.



What's your favorite theme among the Jewelpet anime series?
Which Sweetspet is your favorite? (alphabetically sorted)


Create blog post
Refresh
Jonathan Joestar - Tour. Jonathan is a true gentleman almost l ike Tour so seeing him and tour together is a must.

Dio Brando - Dian. Dian is messed up in season 1 and has some abilities Dio can do as well so seeing them part together is a must. Though Dio being Dio, hed probably make Jewelpets exti…

Read more >

list to Jewelpet and Sweetpets -

Cure Dream - Butterfly

Cure Lemonade - Flora

Cure Aqua - Snowflake

Cure Rouge - Firefly

Cure Rose - Rose

Read more >

PS: thank you for reading this blog. Have a nice day!

Read more >
See more >

Community content is available under
CC-BY-SA
unless otherwise noted.