Welcome to Jewel Pet wiki!
We currently have 721 pages. This is a site dedicated to the Jewel Pet franchise. Contributors are welcome!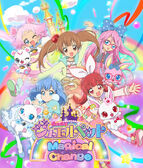 Jewelpet Magical Change
is a 2015 anime series based on the
Jewelpet
franchise. It is the 7th and final series in the Jewelpet anime franchise.
For the first time in the franchise, Jewelpets are given the ability to transform between a Jewelpet and a human. The series also features the debut of a new Jewelpet character named Larimar.



What's your favorite theme among the Jewelpet anime series?
Which Sweetspet is your favorite? (alphabetically sorted)


Create blog post
Refresh
list to Jewelpet and Sweetpets -

Cure Dream - Butterfly

Cure Lemonade - Flora

Cure Aqua - Snowflake

Cure Rouge - Firefly

Cure Rose - Rose

Read more >

PS: thank you for reading this blog. Have a nice day!

Read more >

I know some one has Posted this before on this site, But It's been driving me nuts since I've been Discovered it.... I wanna know what Episode of Jewelpet Twinkle this Originally came from, For this looks like a perfect Representation of an Invisible Girl in Anime.

Something I can use in my Artwork,…

Read more >
See more >

Community content is available under
CC-BY-SA
unless otherwise noted.