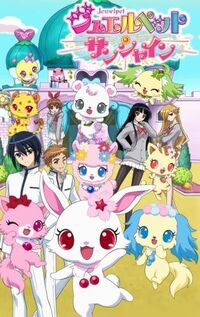 Jewelpet Sunshine (ジュエルペット サンシャイン, Juerupetto Sanshain?) is the third Jewelpet anime series created by Sanrio, and animated by Studio Comet. It is preceded by Jewelpet Twinkle☆ and succeeded by Jewelpet Kira☆Deco!. It is directed by Takayuki Inagaki. It aired from April 9th, 2011 to March 31st, 2012. It has a total of 52 episodes.
Synopsis
This series focuses on Ruby and Kanon Mizushiro, two roommates who hate each other, during a semester at Sunshine Academy. They are part of the outcast class, the Plum Class, who have many hilarious adventures, and tests as they strive to graduate.
Characters
Humans
Jewelpets
Non-Jewelpets
Episode List
Main article: List of Jewelpet Sunshine episodes
International Broadcast
It was first aired on TVB Jade in Hong Kong, China on July 4, 2012, 4 months after it ended in Japan.
In 2013, the anime broadcasted in Portugal's Canal Panda on New Year's day, then in South Korea's Daekyo Kids TV and KBS Kids on June 19 and finally in Hong Kong's TVB Kids on September 12.
In Thailand, it aired on True Spark, though the year of its broadcast is unknown.
Gallery
Trivia
Videos